Stretch Hexagonal Metal Framed Tower Display Case with Light
SKU: 65235
---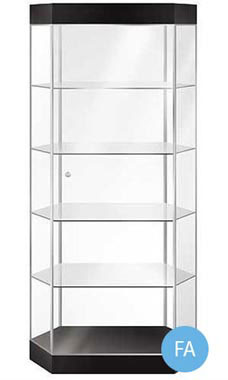 $750.00
Features:
Anodized aluminum framing
Tempered glass
Four adjustable glass shelves
Overall Size: 75" H x 36" W x 20"D
Base is 4"H top cap is 4"H yielding 67" of glass display area
Single Access locking center glass panel
Lock with 2 keys included
Lighted case has 3 LED spots built in to the top cap
6ft extension cord plug into standard electrical outlet
In Stock and Ready to Ship
The Black Stretched Hexagonal Display Tower is just the display case to make your customer's stop in their tracks to look at your merchandise. This case features four adjustable tempered glass shelves which provide ample display space for all sorts of merchandise from jewelry to fine china. The case features LED lighting with a 6 foot extension cord and front access locked door. Wood crating for secure shipping is included in the price of the tower.
FEATURES
Anodized aluminum framing
Tempered glass
Four adjustable glass shelves
Overall Size: 75" H x 36" W x 20"D
Base is 4"H top cap is 4"H yielding 67" of glass display area
Single Access locking center glass panel
Lock with 2 keys included
Lighted case has 3 LED spots built in to the top cap
6ft extension cord plug into standard electrical outlet