Gray Service Counter Display Case Arrangement - Metal Framed
SKU: 65921
---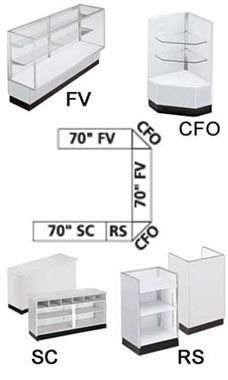 $1,940.00
Features:
Framed Display Case Set Features:
Showcase Arrangement includes each of the following:
Two Metal Framed 70"L Full Vision Display Cases
Two Metal Framed Open Shelf Corner Fillers
One Metal Framed Well-Top Register Stand
One Metal Framed 70"L Service Counter
Gray Finish
Fully Assembled
Optional Lock and Lights Available for Full Vision Showcase
In Stock and Ready to Ship
If you've been dreaming of a custom built-in display, we have the answer to your problems. With our Gray Classic Metal Frame Display Case Arrangement, you can create the illusion of a built-in display showcase at an affordable price. Included in the arrangement are two 70"L Full Vision Showcases, two Open Shelf Corner Fillers, one Well-Top Register Stand, one 70"L Service Counter. All display units are constructed from Gray melamine laminate exterior and anodized aluminum frame extrusions. The Full Vision Display Cases feature tempered glass throughout, easy sliding rear hardboard doors, finished deck and doors, and matching steel interior standards and brackets. Customers can easily view what's inside, and retailers can easily access and restock merchandise. The 70" service counter is essential for customer service, offering adjustable shelves and storage bins to host tools, supplies, and store essentials, improving productivity and efficiency while attending to a customer. The corner display fillers offer two adjustable shelves for additional display space. The well top register stand is the last piece of the showcase display. It offers storage as well as a capable place to keep your cash register or computer. All essential display pieces are shipped in wood crating for security.
FEATURES
Framed Display Case Set Features:
Showcase Arrangement includes each of the following:
Two Metal Framed 70"L Full Vision Display Cases
Two Metal Framed Open Shelf Corner Fillers
One Metal Framed Well-Top Register Stand
One Metal Framed 70"L Service Counter
Gray Finish
Fully Assembled
Optional Lock and Lights Available for Full Vision Showcase