3-Tier White Faux Leather Jewelry Display
SKU: 55338
---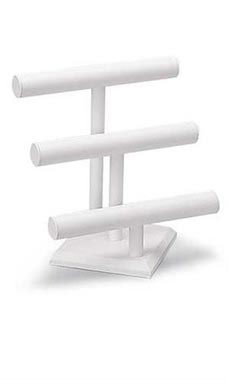 $13.17
Features:
White Faux (Imitation) Leather Finish
3 Tiers
Display Multiple Necklaces At Once
Self Supporting
Overall Dimensions 12"W x 13"H
Temporarily Out of Stock
Showcase your delicate bracelets quickly and effortlessly with our 3-Tier White Faux Leather Necklace/Bracelet Displayer. The display bar has 3 tiers of display space designed to lend visual interest to your jewelry. Simply position the jewelry over the top of the display as close together or far apart as you like. The overall height of the display is 13"H.
FEATURES
White Faux (Imitation) Leather Finish
3 Tiers
Display Multiple Necklaces At Once
Self Supporting
Overall Dimensions 12"W x 13"H