30% Off Rectangle Sign Card
SKU: 15302
---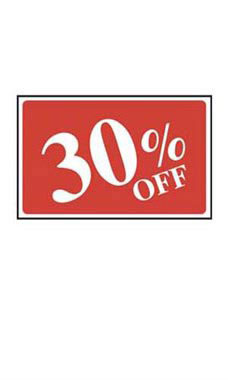 $1.21
Features:
Laminated Scratch Resistant
Heavy Duty Plastic
Overall Dimension: 7"H x 11"W
30% OFF
Sold Separately
In Stock and Ready to Ship
The 30% Off Sign is great for promoting your sale merchandise throughout your store. The signs can be mounted on wall surfaces or on top of clothing racks and displayers. The sign is 7"H x 11"W with durable scratch-resistant, heavy-duty plastic. The sign features white print on a bold red background.
FEATURES
Laminated Scratch Resistant
Heavy Duty Plastic
Overall Dimension: 7"H x 11"W
30% OFF
Sold Separately