Smokers Cease-Fire Smoke Receptacle
SKU: 10042D
---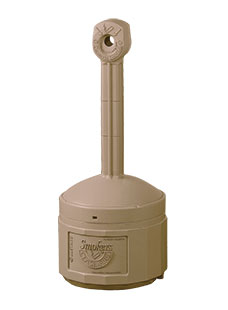 $62.98
Features:
Dimensions: 40"H x 18" Diameter
Color: Tan
Material: Polyethylene with a Galvanized Steel Pail
Sold individually
In Stock and Ready to Ship
The self-extinguishing design of the Smokers Cease-Fire Smoke Receptacle will help ensure the safe disposal of cigarette ash and litter. The innovative design also keeps out rain and discourages unwanted trash being placed in the receptacle. Use this effective and economical solution to eliminate unsightly cigarette litter in your parking lot and near your store entrance. 
FEATURES
Dimensions: 40"H x 18" Diameter
Color: Tan
Material: Polyethylene with a Galvanized Steel Pail
Sold individually