Boutique Cobblestone 2-Way Clothing Rack with Slant Arms
SKU: 60487
---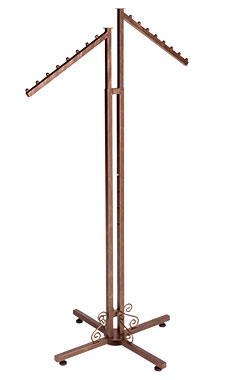 $59.50
Features:
Hand Brushed Copper Finish
2 Slant Arm Design
Slant Arms are 18''
Customizable with Finials
Uses Finials with Square Fittings
Part of The Cobblestone Collection®
In Stock and Ready to Ship
Our Cobblestone 2 Way with 2 Slant Arms Rack is sure to add a touch of style to your showroom floor. Our Cobblestone Collection features a mottled brushed metal finish with welded corners. Adjust the arms into different positions to highlight your apparel on multiple levels. Our Cobblestone 2 Way Rack features push button arms that make it easy to adjust from 48" to 72". All of our Boutique Clothing Racks come standard with flat caps. Customize your rack by adding one of our four Finial designs. Finials easily attach and detach at the top of the rack allowing flexibility.
FEATURES
Hand Brushed Copper Finish
2 Slant Arm Design
Slant Arms are 18''
Customizable with Finials
Uses Finials with Square Fittings
Part of The Cobblestone Collection®