Panel Doors and Plunger Lock Kit for 48 inch Metal Framed Extra Vision Showcase
SKU: 65522
---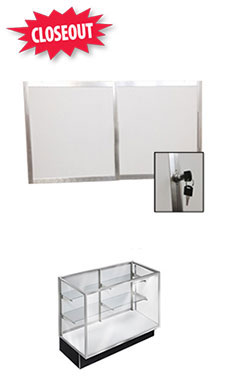 $75.00 $38.00
Features:
MUST ORDER A 48" EXTRA VISION METAL FRAMED SHOWCASE WITH THIS KIT
Color: White
Kit includes doors & plunger lock
THIS ITEM IS AN ADDON ONLY
Temporarily Out of Stock
Want added security for your showcase? The Panel Doors & Plunger Lock Kit is exactly what you need! Purchase this kit as an addon to your 48" metal framed extra vision showcase. This item is the door & lock kit ONLY.
FEATURES
MUST ORDER A 48" EXTRA VISION METAL FRAMED SHOWCASE WITH THIS KIT
Color: White
Kit includes doors & plunger lock
THIS ITEM IS AN ADDON ONLY