Boutique Ivory Teardrop Round Fitting Finial
SKU: 60575
---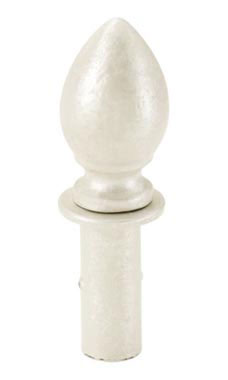 $0.82
Features:
Translucent opal, ivory finish
Delicately design teardrop mold
Easily interchangeable
Round fitting finial
In Stock and Ready to Ship
Add a custom touch to the theme of your showroom with these interchangeable Teardrop finials that effortlessly attach and detach to the top of your garment racks. Give your showroom top notch appeal with these delicately designed teardrop finials that will surely claim admiration from each guest. Our ivory collection features a translucent opal shimmer on top of the pearlized ivory finish that attracts customers with its visually appealing glow. The teardrop finial works on fixtures constructed with round tube stands.
FEATURES
Translucent opal, ivory finish
Delicately design teardrop mold
Easily interchangeable
Round fitting finial